8 Ways To Keep Clients Happy and Loyal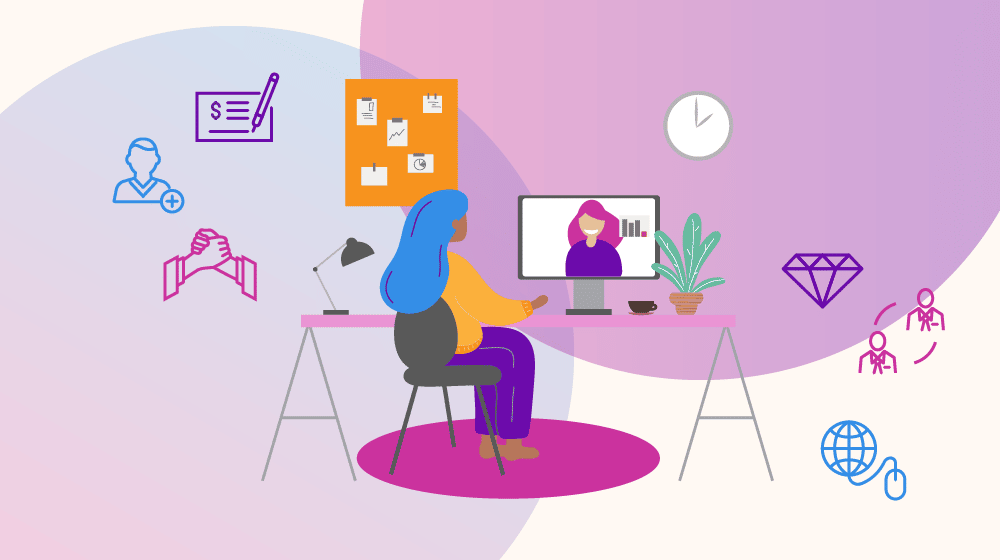 Keeping your clients happy is an essential skill for a bookkeeper to have. After all, finding customers is difficult, and it's a waste if they don't stick around for more than one service.
Here are 6 proven tips to help you keep bookkeeping clients happy and loyal, so you'll only have to go through the hassle of finding clients once.
RELATED: 17 Fail-Proof Networking Strategies for Bookkeepers
Tips for Keeping Clients Happy
Make A Good First Impression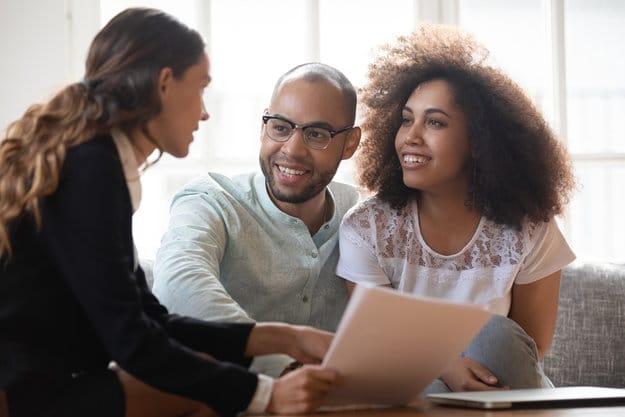 The first few months of a relationship with a client sets the tone for your entire professional relationship. Because of that, you need to treat your newer clients with extra care.
Of course, providing excellent customer service with all of your clients is essential. But we recommend that you prioritize the clients you have been working with for 100 days or less.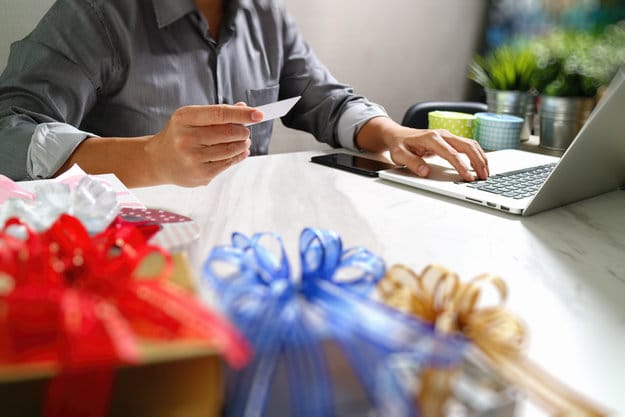 Although newer customers should be prioritized, it's the old customers that should be thanked the most.
Periodically reward your oldest, most loyal customers with loyalty rewards like discounts on your services, coupons for rest and relaxation activities, or these great ideas for customer loyalty programs.
Build A Personal Relationship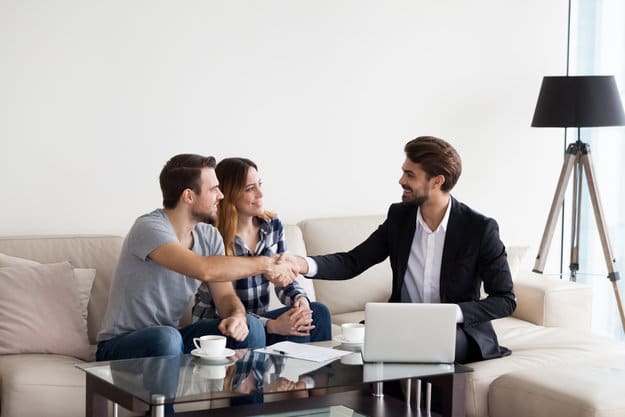 Make your clients attached to you as a person, and they're much less likely to stop using your services.
You can do this in simple ways, like adding their names to dinner party invite lists or sending them a copy of your Christmas card. If your clients believe you care about them personally, they will feel their finances are in good hands with you.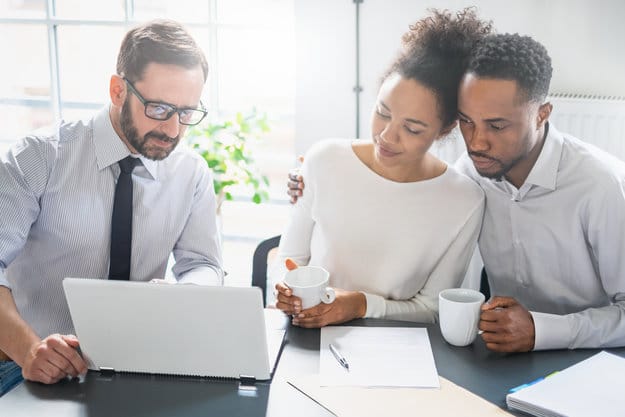 There is a myth that putting a price upfront makes you look money-hungry, and it's just not true. People may not love being hit with a dollar sign first thing when they look into service, but they like hidden fees even less.
When you display your price alongside an advertised service, it makes you look honest. When the price is not actually shown until it's time to pay, it can make you look secretive and passive. Which kind of customer service do you want to provide?
Call Them (Video Chat for the Techies)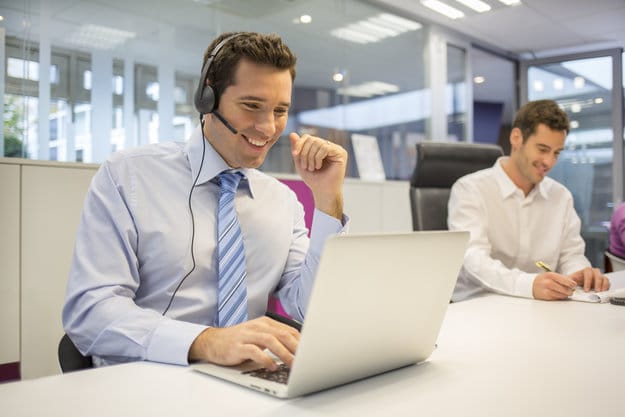 Hearing someone's voice, intonation, and all is a much more personal form of communication than email. So when you can (and you don't think it would be an inconvenience), call your clients to discuss business instead of emailing them.
If you can video chat, even better, only go for this option if your client is technically savvy enough to welcome video apps like Zoom, Facetime (for Apple's mobile products), or at least Skype.
Factor in Your Client's Preferences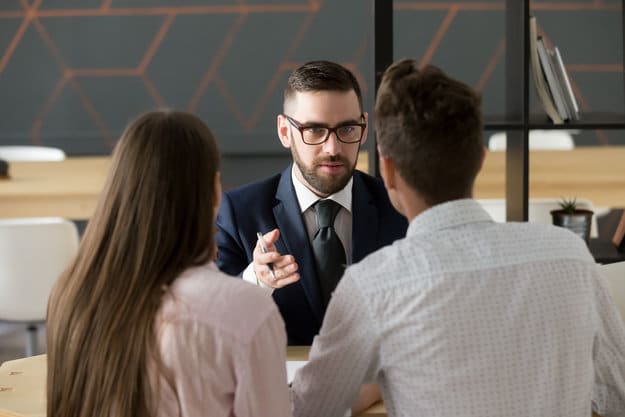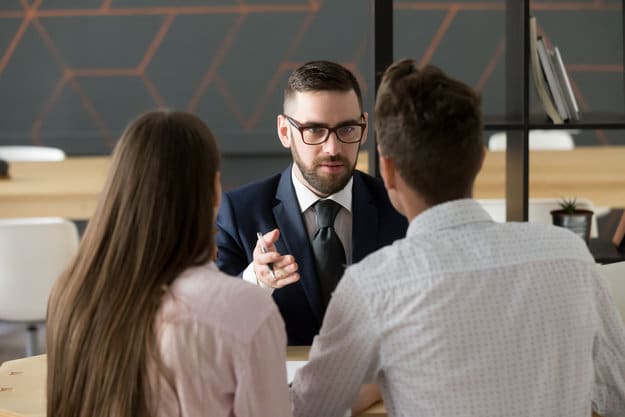 People love customized solutions. They want to know they are being heard, and they want to see their opinions are affecting your actions. So, do that with your clients.
When talking with them, be sure to get their opinions on what they want to see in your project. Then, factor those preferences into the plan in a way that is visible to the customer. Even if "their way" is not quite as efficient as what you might do if left to your own devices, seeing it in the final will make them happy.
Reply to Emails Immediately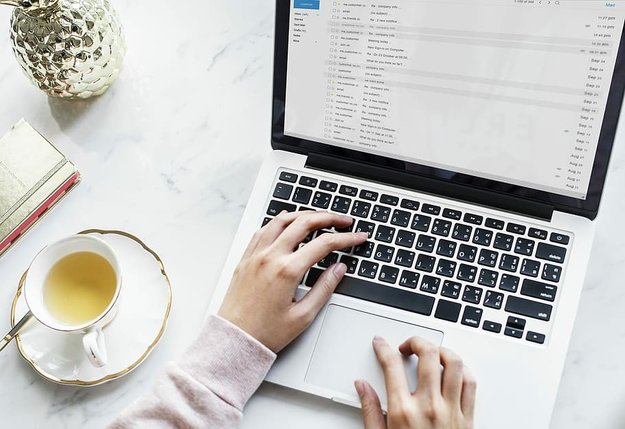 Customers feel respected and well taken care of when they send an inquiry via email and receive a response within minutes. And with a 3G-enabled smartphone, this shouldn't be too hard to make happen.
If you really don't want to be on-call at any given moment, set a schedule for times throughout the day you will check and respond to all emails you receive. Let your clients know about this schedule so they know when to expect a response.
As mentioned above, occasional call or video chat responses are a nice touch, even if the initial contact was email.
Do More than Just Bookkeeping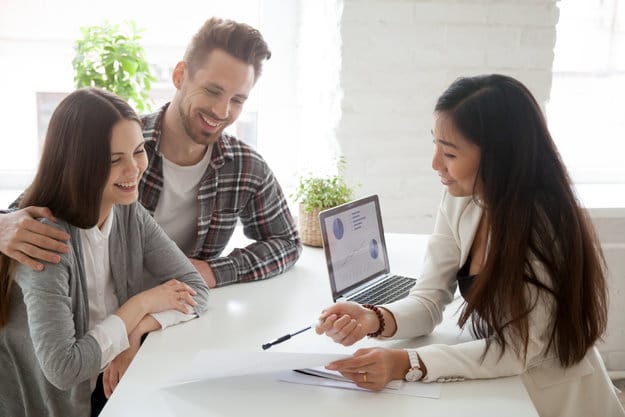 Be an advisor to your clients. Recommend other services and let them know what course of action they should take when an issue comes up.
Bookkeeping is obviously your primary duty, but you should try to provide extra support to your clients.
Utilize these tips and retain both old and new clients. Not only will you save massive amounts of time you might otherwise spend marketing yourself, but you'll acquire more clients overtime via positive word-of-mouth. Before too long, you'll have so many prospective clients that you'll be able to pick and choose who to take on!
Please SAVE & SHARE these infographics for your later use.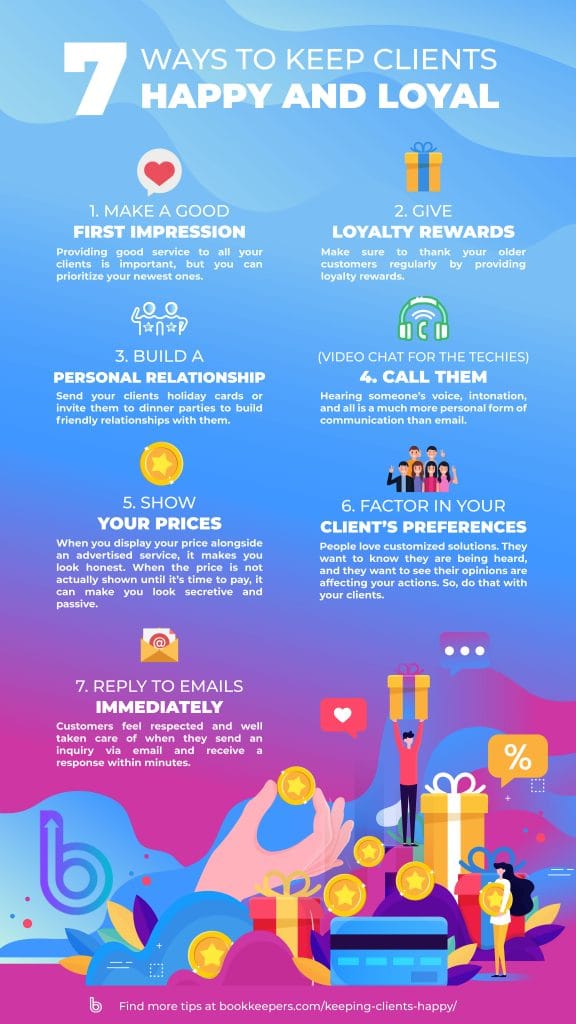 And finally, don't forget to watch this short video for a quick summary to develop your own keeping-clients-happy skills.
WHAT ARE YOUR TRIED AND TRUE SECRETS FOR MAINTAINING CLIENTS? LET US (AND ALL OF OUR READERS) KNOW IN THE COMMENTS SECTION BELOW!
UP NEXT: