How To Become a Bookkeeper in 2024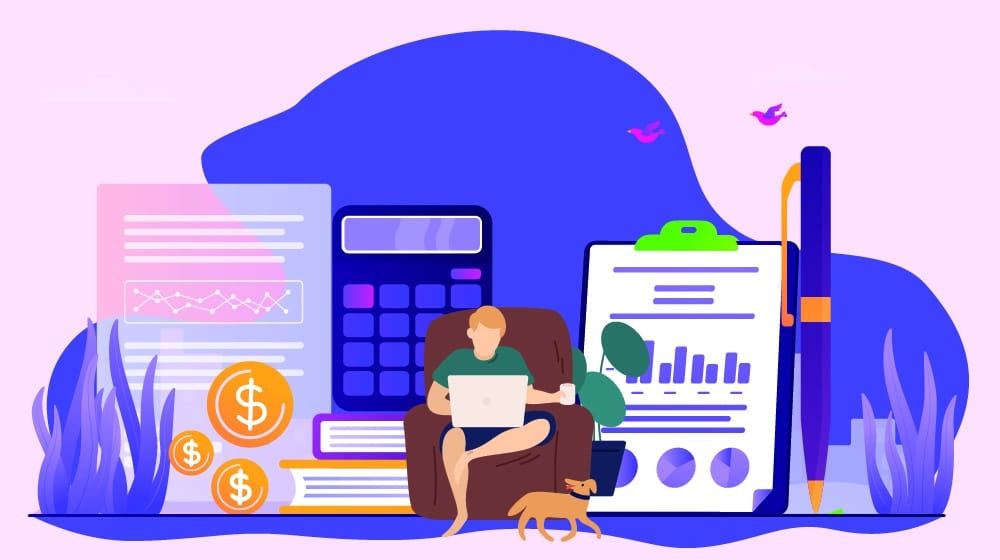 If you're looking for a lifestyle-friendly job, learning how to become a bookkeeper from home can help set you up for a great career!
In this article:
How to Become a Bookkeeper with No Experience
The Perks of a Virtual Bookkeeping Job
To understand the concept of virtual bookkeeping better, let's look at how telecommuting operates.
What is telecommuting? Telecommuting is a popular work arrangement wherein an employee works outside the confines of an office. Often, they work from home or in a public location closer to their homes.
It's called "telecommuting" because instead of traveling to the office personally, the employee "commutes" to reach their office counterparts via telecommunication links. They keep in touch virtually via phone, email, and messaging apps.
Telecommuting is similar to remote bookkeeping jobs. Both work arrangements afford more freedom when it comes to working hours and where you do your work.
When you're not confined to a 9-to-5 job, you have more flexibility to balance your personal responsibilities and work obligations. Being able to choose where and when you work means you can do your job most productively.
As a virtual bookkeeper, you have the unique freedom to choose who to work with. You'll be the one to source out your clients, and you can carefully select the ones you can serve best.
Bear in mind that you also have to be self-motivated, organized, and good with time management. These are key traits you must possess and master to succeed in your virtual bookkeeping job. Even more so if you want to have your own bookkeeping business.
Even while you're still learning how to become a bookkeeper, you must already exercise these three key traits.
(Read this post to learn how to start a bookkeeping business.)
Be a Bookkeeper from Home
Step 1: Invest in Your Work Tools
Deciding to learn to become a bookkeeper means you should also be willing to invest in this career path. 
You're essentially training to become a virtual bookkeeper, which means you'll be working remotely — most likely as a third-party service provider to businesses.
It's only fitting that your first investments are a good computer and a reliable Internet connection. These are the two work tools you'll use the most, so they must be up to the task.
It's also good to invest in a mobile or landline phone service as they are your means to reach customers and colleagues. 
You can use your personal mobile and landline while you're still setting up your business, but eventually, you'll have to separate your business communications.
Step 2: Get Basic Bookkeeping Training
Opting to make a career out of virtual bookkeeping is a great choice. Entrepreneur magazine ranked accounting, bookkeeping and tax services as the "most profitable" small business.
A good bookkeeping training program will teach you bookkeeping skills that business owners are more than willing to pay for.
Specifically, the bookkeeping skills taught need to show how to:
record financial transactions
keep financial records
prepare financial reports
use the right kind of bookkeeping software
record accounts receivable and accounts payable 
There's no denying you can achieve a lot with this career path, and you can learn how to become a bookkeeper through training courses. You don't even need related work experience to qualify for bookkeeping training. And, you don't have to be a Certified Public Accountant (CPA). 
If you have no previous experience in the accounting industry, this means you need to pick your bookkeeping courses wisely. They should cover all the essentials you need to learn to be a competent and capable bookkeeper.
With Bookkeeper Launch, not only will you learn the technical side of online bookkeeping, but you'll also get guidance on how to start your own bookkeeping business.
These days, it's not just about knowing how to do the job — real-world skills are also very important. You must learn how to create an efficient bookkeeping system, set up your business, and deal with clients daily.
Bookkeeper Launch equips you with comprehensive bookkeeping and business skills so that you can succeed in this career path. I remember hearing about accounting in high school. I only wished my high school guidance counselor would have forced me to take this class. It's such a powerful, lifelong skill.
Step 3: Learn How to Use Accounting Software
Aside from learning the essential concepts and how-to's of bookkeeping, you also need to familiarize yourself with accounting software. You can study the basics through online tutorials or get hands-on training from professional bookkeepers.
Accounting software know-how can make you an even more valuable asset to clients. Software tools help streamline the bookkeeping process, which means you can do your job efficiently.
Accounting software like QuickBooks also helps keep startup costs at a minimum.
When you pick an online accounting program, you should take into consideration both your clients' and your personal financial management. Remember that you'll also use it to manage your own finances.
As software and programs are often not offered for free, it's up to you to pick one where you'll get value for money. Here are some of the things you should consider when choosing an accounting software or program:
Cost
Types of bookkeeping tools you'll need
Usability
Storage
Mobile options
Collaboration options
You don't need the most advanced accounting software while you're still starting out. What you need is a software that's affordable and has all you need to manage finances well.
RELATED: How To Make Clients Line Up and Beg You To Serve Them
Step 4: Launch Your Bookkeeping Business
After becoming a bookkeeper and equipping yourself with business know-how, it's time to launch your bookkeeping business. Or, you can choose to become a freelance bookkeeper. Here are some steps you need to take whether you choose the bookkeeping business or freelance bookkeeper path:
Acquire a tax identification number
Apply for licenses and business permits as needed
Select a structure for your business (sole proprietorship, LLC, etc.)
Aside from formalizing your bookkeeping business, you also need to market your services. There are several ways to do this:
Networking — Attend networking events and small business groups to connect with potential colleagues and clients.
Word of Mouth — Let your family and friends know about your business and utilize the relationships you already have. Ask people to recommend you, so you can gain clients and build your network.
Create a Website — Having your own website adds to your credibility. It helps others find you and learn about the services you offer, and eventually, you can also include client testimonials on your website.
Create a LinkedIn Profile — Social selling is an effective way to market your services, and you can start by connecting with people through LinkedIn. Make sure to update your profile with relevant and valuable content as you'd do with your website.
Hand out Business Cards — Give people something to remember you by so when they need a bookkeeper, you'll be at the top of their mind.
All businesses need a bookkeeper. They may not always be actively looking for one, but at some point, they'll need someone to manage their financial statements.
Financial statements (Balance Sheet, Income Statement, and Statement of Cash Flows) are the scoreboard for business. If a business owners doesn't have up-to-date, accurate and custom financial statements, they're operating in the dark. 
In addition, the Internal Revenue Service and many banks require businesses to have complete financial statements. This means job security for bookkeeping professionals.
Look for potential clients on career websites that cater to remote bookkeeping jobs. Freelance marketplace websites also exist where you can find short- and long-term projects you can apply for.
One thing you can consider is focusing on a particular niche you can organically grow. For instance, you can be a bookkeeper specifically for doctors or startup companies.
Step 5: Negotiate a Reasonable Rate
According to the United States Bureau of Labor Statistics, the average bookkeeper salary per year is around $40,000 ($19 per hour). This is the rate that full-time bookkeepers earn.
As a service provider or a freelancer, you can earn more than the average full-time bookkeeper. The key to commanding a higher rate is to provide the value your clients need.
This is something that Bookkeeper Launch can teach you as part of the real-world problems you'll learn to solve. The course equips you with the confidence to target a minimum of $60 for your hourly rate.
Step 6: Invest in Yourself
The first step on how to become a bookkeeper from home is to invest in work tools. Now we've come full circle — the last step you should continuously keep taking is investing in yourself.
This means actively improving your skills by undergoing training regularly. You also need to keep yourself updated on the latest industry standards to ensure you provide the best service to your clients.
Cultivate your desire to learn new things because there's always something new to discover and learn. The accounting industry is always evolving, and you must roll with the changes if you want to stay in business.
Follow these six steps on how to become a bookkeeper, and you'll be well on your way to launch a career as a virtual bookkeeper. With enough motivation and discipline, you can learn to be a bookkeeper even without previous experience.
Don't miss the opportunities you can enjoy with the most lucrative business in the world!
What challenges hinder you from becoming a virtual bookkeeper? Share them with us in the comments section below.