7 Reasons Why Virtual Bookkeeping is a Great Job For A Stay-At-Home Parent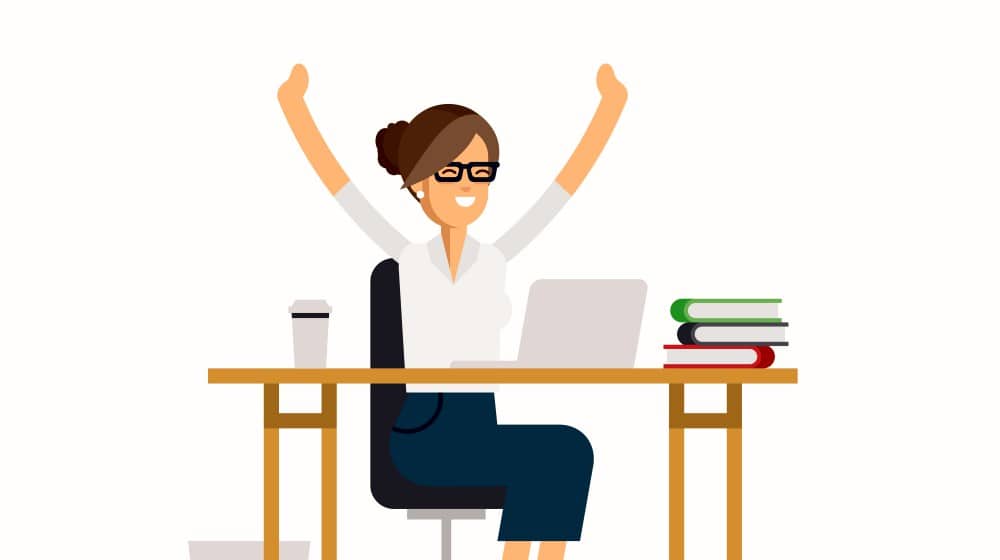 In this post, we'll discuss the perks of working remotely, and why virtual bookkeeping is a great gig for any stay-at-home mom or dad.
RELATED: Starting a Bookkeeping Business
In this article:
Virtual Bookkeeping Opportunities for Stay-at-Home Parents
Why It's Great Being a Remote-Working Parent
Stay-at-home moms and dads have different reasons for wanting to pursue a career or start a business. It may be a matter of supplementing the family income or simply wanting to gain satisfaction from their own careers.
The idea of working from home along with managing the household may sound like a lot of work, but it has its own benefits. For one, you can fill your spare time after finishing all the routine household work.
You'll be able to keep your hands busy while still helping your family at the same time.
There are different kinds of remote jobs to choose from, and it's important to pick something that works for you. If you have an infant or a toddler, look for a freelance job with flexible working hours so you can be available for your kids whenever.
If you have school-aged kids, you can opt for a part-time job or full-time remote employment. You'll work on set hours, get regular pay, and even enjoy company benefits without having to commute.
There are many opportunities for stay-at-home moms and dads to pursue virtual jobs. Yet hands down, the most lucrative one involves bookkeeping and accounting.
Keep reading to find out why this career could be the perfect one for you!
Why Stay-at-Home Parents Should Pursue Entry Level Virtual Bookkeeping Jobs
1. Virtual Bookkeeping Is Easy to Learn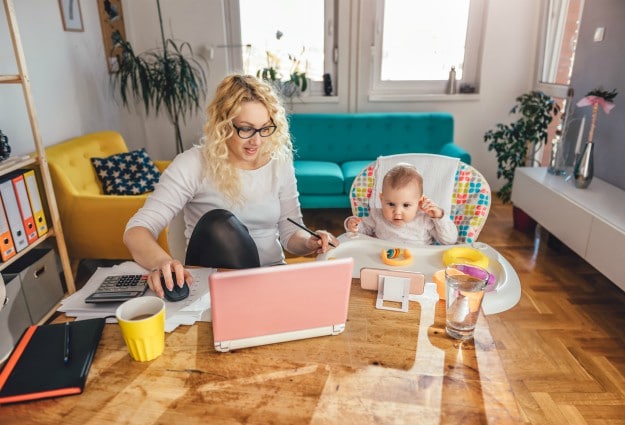 Don't let the thought of numbers and doing math intimidate you — bookkeeping is a skill anyone can learn. It's definitely a bonus if you're detail-oriented, organized, and have a background in administrative work.
Virtual bookkeeping is a job opportunity that's open for both the experienced and inexperienced. If you already have a background in accounting or bookkeeping, you can start offering telecommuting services.
Telecommute Definition: This refers to working from home and utilizing the computer, phone, and Internet to accomplish one's job.
If bookkeeping is new to you, we have you covered! Our Bookkeeper Launch course is designed for those who have no experience with bookkeeping or accounting!
For stay-at-home parents, the best option is to take an online bookkeeping course like Bookkeeper Launch. Here, you can learn bookkeeping skills, how to create an efficient system, and how to market to gain clients.
It's ideal because it allows you to finish the whole course at your own pace. You can also work through it from the comfort of your home.
2. Flexible Work Hours
Depending on the kind of clients you have, most bookkeeping jobs allow you to work flexible hours. As there's no set time, clients can call you only when they need to, ensuring you're available for your family.
Keeping a good work-life balance even as a stay-at-home mom or dad comes with extra effort. As a bookkeeper, you have to diligently record your client's daily financial transactions, so you won't find yourself overwhelmed later on.
There may be times when your clients need you for more hours in a day, like during the tax preparation season. If you're able to manage your time wisely, this won't be as stressful.
3. You Can Work Anywhere
There are good reasons why companies offer remote work options, mainly:
Greater satisfaction for workers
Lesser turnover
Lower overhead costs
This is why companies are becoming more open to a telecommuting setup.
Having a virtual bookkeeping job means you can work anywhere. If you have very young kids, you can do your work while you're home and taking care of them.
If you're a hands-on parent to school-aged kids, you can work outside of the home, such as a cafe or a co-working space, while waiting for them to finish school.
This job offers you the freedom to bring your work with you so your life doesn't revolve around it. Not to mention, working in a different environment can help motivate you.
RELATED: What Is Bookkeeping—Explained
4. You Can Take Care of Your Family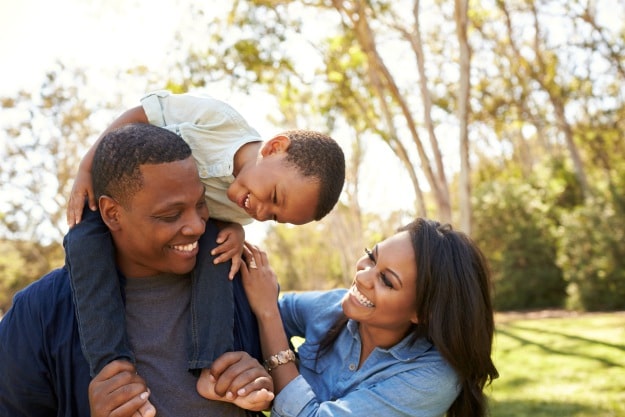 As a partner and parent, your first priority is your family. Being a stay-at-home mom or dad has several wonderful benefits you might not realize yet.
First, you don't have to add childcare to your list of regular expenses. You also have more time to guide and help your children with their school work.
The most important reason: you can make yourself available for your family. You'll be able to provide the physical and emotional support your family needs.
A virtual bookkeeping job gives you the freedom to do all those things while also bringing in extra income into the household.
No more coming home from a long day at work and being too tired to do anything else. It's time to build your career or business around your life.
5. It Gives You Time to Manage Your Household
Aside from the family, moms and dads also have the household to manage. This can mean handling the family's income and expenses and taking care of household chores.
If you want to earn money but you're still not quite ready to delegate the household management to someone else, online bookkeeping is a great career choice.
The flexible working hours this job offers lets you juggle your life as a spouse, as a parent, and as a professional. Although your virtual bookkeeping job is lenient when it comes to the hours you clock in, having good time management skills is still important.
Coupled with the opportunity to work with more freedom, this job lets you maintain the work-life balance you want and need.
6. Virtual Bookkeeping Pays Well
Virtual bookkeeping rates may vary, but it's still one of the most lucrative jobs you can get as a stay-at-home parent.
You can earn $20 to $50 per hour by providing bookkeeping services to businesses. The rate may vary depending on your location and the complexity of your bookkeeping tasks.
If you're already an experienced bookkeeper, you can charge between $30 to $40 per hour for your retainer. When dealing with small business owners who don't need long hours of work, you can negotiate a minimum monthly bookkeeping charge between $100 to $150.
When you're still starting, don't set high expectations on your income just yet. You can increase your rates as you get better at what you do and gain more clients.
If you find yourself with more free time, then, by all means, grow your virtual bookkeeping career!
7. It's a Business Opportunity
Starting a job as a virtual bookkeeper lets you work as a freelancer, but it also gives you an opportunity to start your own business.
Once you gain your footing in this industry, you can transition from being a service provider to being an entrepreneur. As an entrepreneur, you'll be able to enjoy the 3F Lifestyle more:
The freedom to live your life as a partner and parent
Time for your family
Enough income to keep your finances in good shape
You can have all these while managing a bookkeeping business of your own. That's how much you can grow with a virtual bookkeeping career.
It's amazing how many benefits and opportunities virtual bookkeeping can open for stay-at-home moms and dads. Even if you start with entry-level virtual bookkeeping jobs, with diligence and perseverance, you can grow in this career.
Eventually, you can venture out and launch your own bookkeeping business!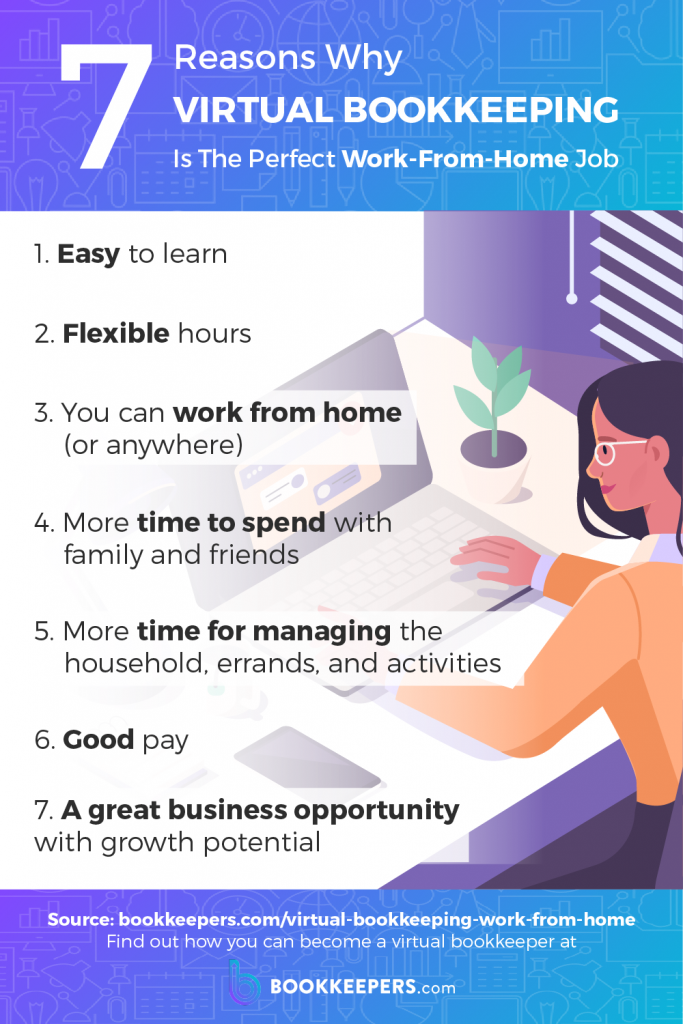 What are the challenges that hinder you from pursuing a career in virtual bookkeeping? We'd love to know your thoughts in the comments section below.
Up Next: