Starting a Bookkeeping Business in 3 Easy Steps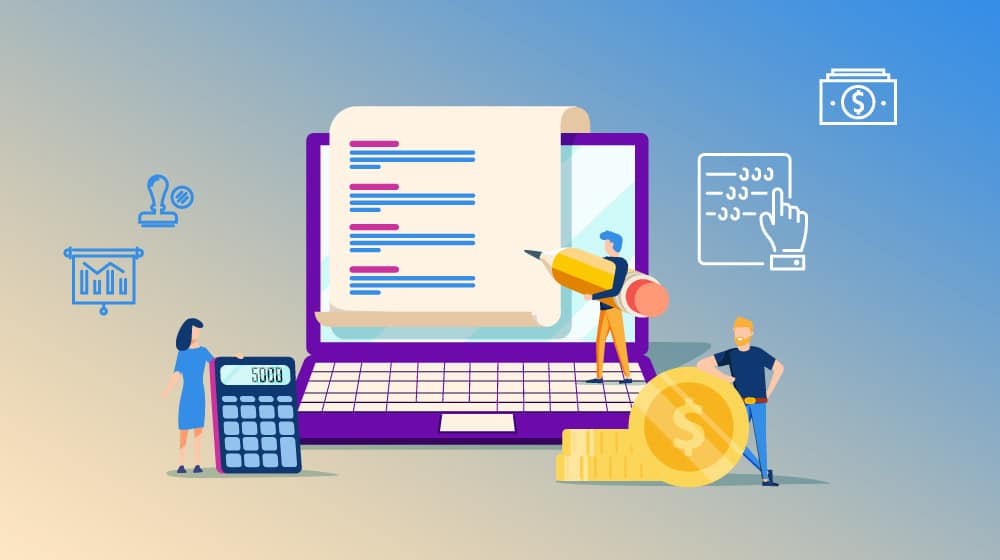 Want to know the ins and outs of starting a bookkeeping business? This might be one of the best decisions you ever make as you consider your own respectable, home-based business.
RELATED: How To Become a Bookkeeper At Home
The Ultimate Guide for Success in the World's #1 Most Profitable Business
Benefits of Starting a Bookkeeping Business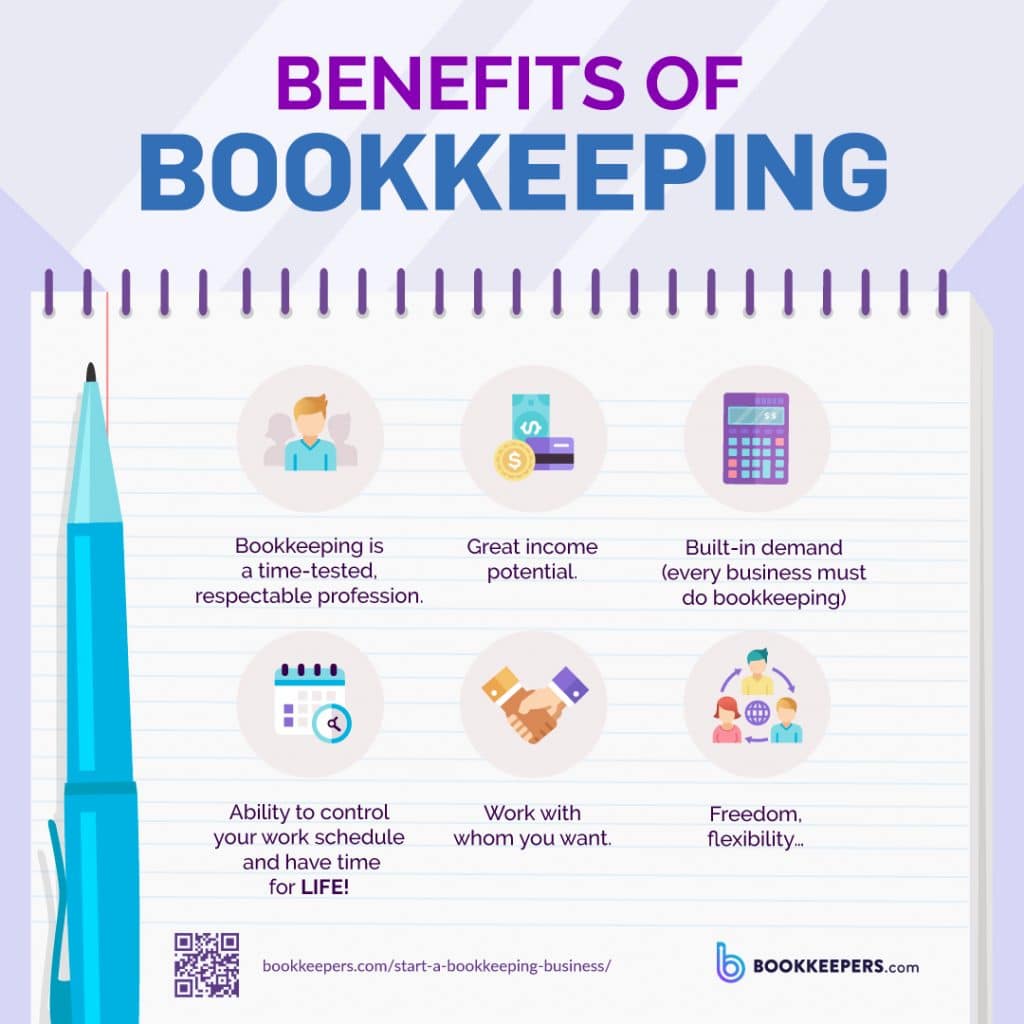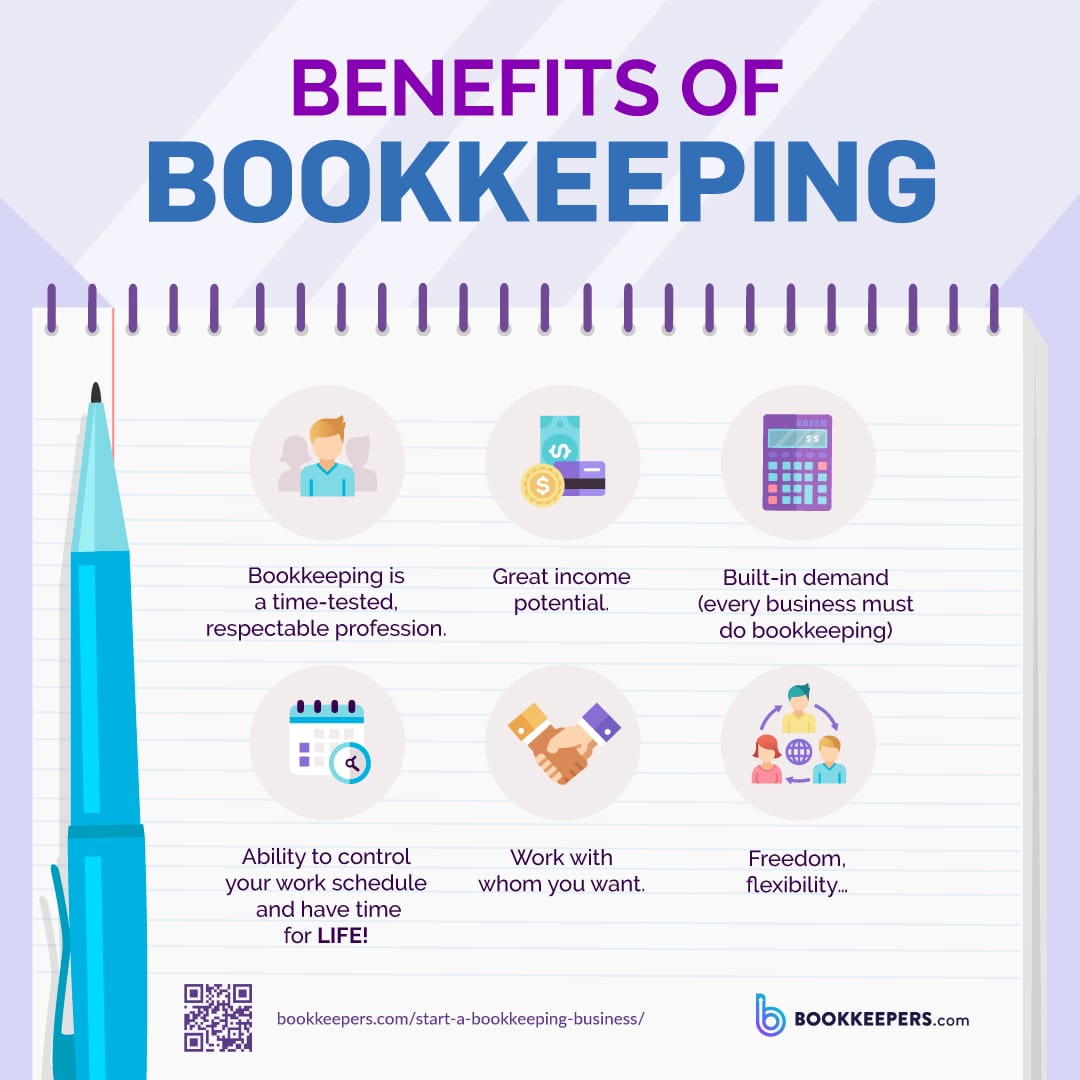 Although it's going to take a lot of effort when starting a bookkeeping business, once you're established, there are many benefits:
Bookkeeping is a time-tested, respectable profession

It has great income potential

Built-in demand (every business is possibly your target market)

Ability to control your work schedule and have time for LIFE!

Work with whom you want

Determine if you want to do bookkeeping full or part time

Freedom, flexibility…
And the list of benefits goes on and on.
Starting a bookkeeping business means you get
A Flexible Schedule

Ability to choose how much you work

The power to determine with whom you work

Freedom to work wherever you want

Be there for your life's precious moments
The top seven character traits of great bookkeepers: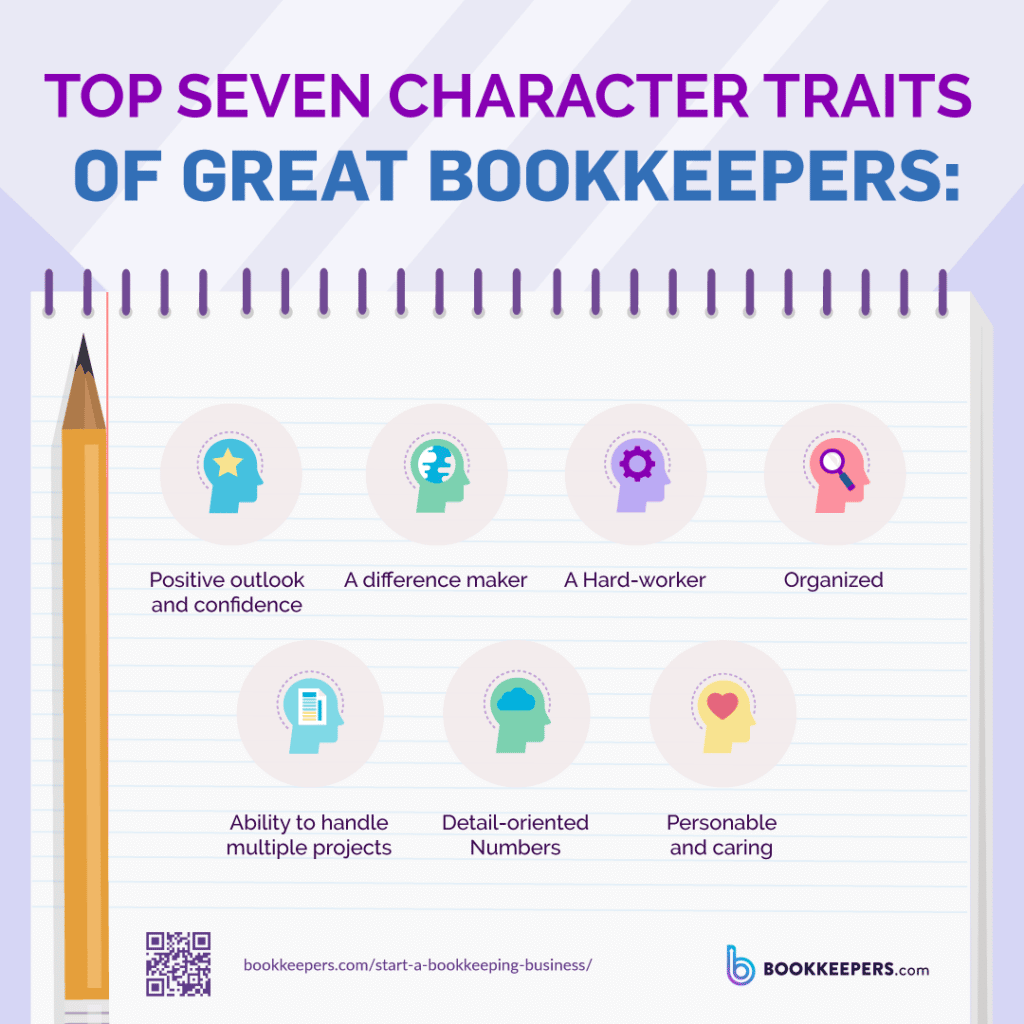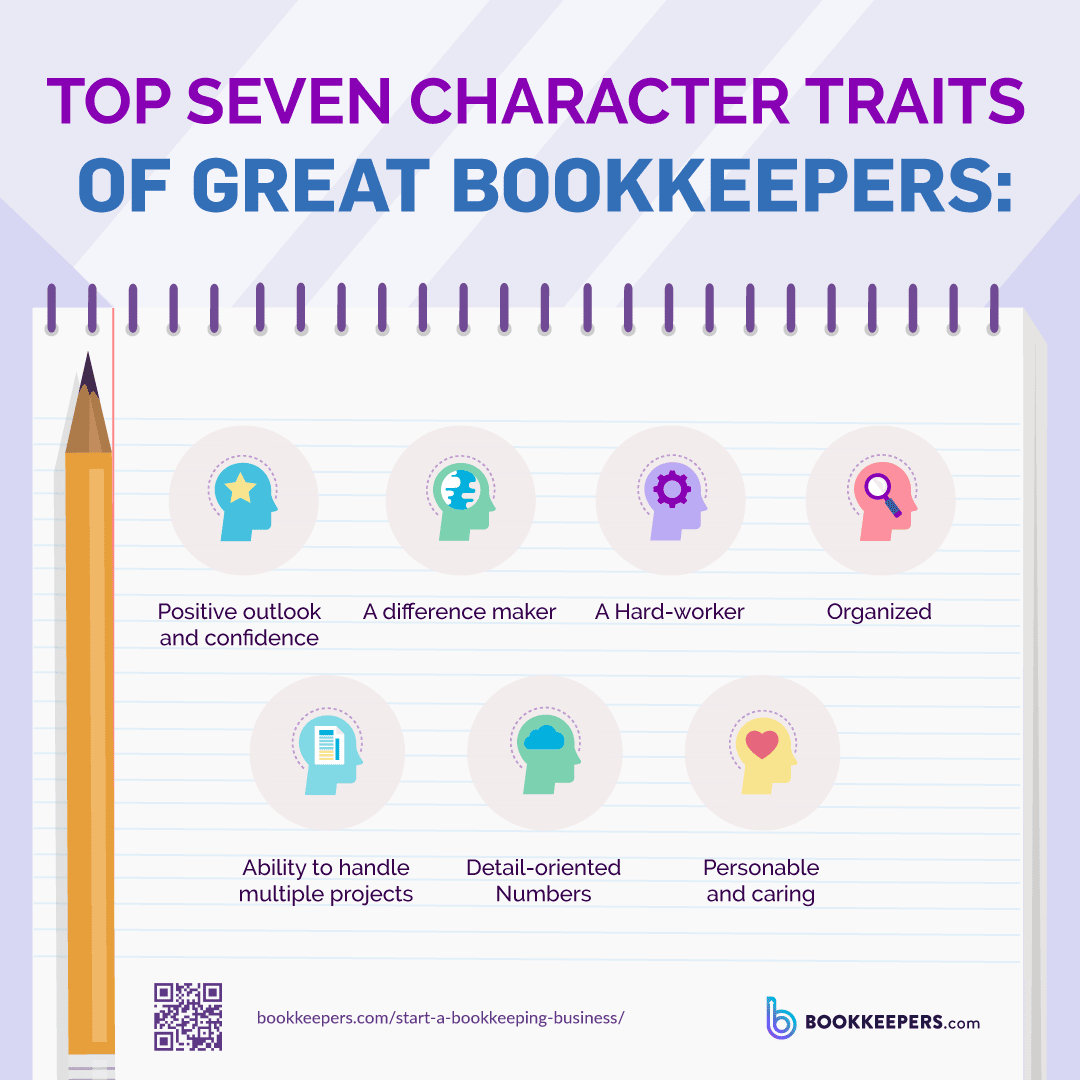 #7: Positive outlook and confidence

#6: A difference maker

#5: A Hard-worker

#4: Organized

#3: Ability to handle multiple projects

#2: Detail-oriented Numbers

#1: Personable and caring
Make sure you have the seven character traits.  Know your big why. Then, find a hands-on, roll-up-your-sleeves bookkeeping course. One that rocks and shows you how to be a great bookkeeper in a "paint by numbers" format.
How to Start a Bookkeeping Business: FAQs
However, there are a few questions that should be swirling around your head. And, you need to know the answers BEFORE you dive into the bookkeeping business pool.
How Long Will It Take Me To Start A Bookkeeping Business?
Our comprehensive bookkeeping business course, Bookkeeper Launch, is designed to be completed in ten (10) weeks. Some students even get their first client while still in the course!  I know, crazy.
While we design Bookkeeper Launch for you to start a bookkeeping business in 10 weeks, it's really up to you.  If you can focus full-time on starting your bookkeeping business, then it will take far less time to launch.
Look, bookkeeping is a simple business.  But, that does NOT mean that it is easy. Nothing in life that has lasting worth is easy.  Again, it is a short-term sacrifice for a lifetime of benefit.
Bottom line: you can be up and running in as little as ten weeks.  It's all up to you mi amigo! You control your own destiny.
How Much Are The Start-up Costs?
Starting your bookkeeping business costs a lot less than you might expect.
And remember bookkeeping is the #1 most profitable business. This is a virtual bookkeeping business, so you will definitely need:
a computer

access to high-speed internet

cloud-based bookkeeping software and accounting software necessary to start your bookkeeping business (and run it.)
Beyond these three key items, here are the other startup costs you can expect when you start a bookkeeping business:
business cards (even though you hand them out on rare occasion), $20

business name (it doesn't have to be a great business name, e.g. "Sally's Bookkeeping")

office supplies (ask Dwight Schrute for a deal, but they might run $100)

website domain name and hosting to get started, $50

do-it-yourself website, around $100…it's mainly your time and effort. This cost estimate is for stock photography and the actual platform like Wix or Square Space. You can also use WordPress if you need more flexibility.

QuickBooks Online® (your go-to bookkeeping software) certification to show your clients you are a bookkeeper-bad-ass. This runs $249. But, I can get that cost waived. More on this later.

Errors and omissions insurance downpayment; around $200. What exactly is errors and omissions insurance? Well, in case something goes awry, you commit an error or you omit ~ forget to do ~ something, this is your saving grace. Just like any other insurance, you hope you never have to use it. But, just in case, you MUST have this insurance. Don't start a bookkeeping business without it!

fancy pants computer safety software (like disk encryption, password management)…this runs about $185.

Dedicated space for a home office. It doesn't have to be big; it just needs to be quiet so that you can work and chat with clients.

Bank account that is dedicated to your bookkeeping business. A personal bank account won't cut it. You're a business owner…time for a business bank account.

Credit card that is dedicated to your bookkeeping business. Don't commingle funds from your personal credit card. Get a dedicated business credit card. 

setting up your bookkeeping organization, getting your business license and paying some other well-used taxes (uh-hummmm). This can vary SIGNIFICANTLY from state-to-state and county-to-county. But, I am going to to benchmark it to be $300. You could begin your business without setting up as a corporation or limited liability company (LLC). But, like errors and omissions insurance I stress the importance of you having it.
BTW…when you setup a business entity, there are several flavors. To understand what might work for you check out this helpful post about best business structure from FitSmallBusiness.com.
Okay, if I did my math right (please, say I did else I might need to find a new line of work) – that means your estimated startup costs are about $1,404.
If you're a thrifty person, I know you can reduce that amount. And, some of the items I list above you can hold off on purchasing right away.
Most businesses cost tens if not hundreds of thousands of dollars to launch.
But not your bookkeeping business! Get going for less than $1,500 smackers…in the world's #1 most profitable business. All kidding aside, that's pretty cool!
What about a business plan? Should you have a business plan? That's entirely up to you. There are both pros and cons to business plans. 
If you can actually use your business plan as a roadmap to get started, then create one. However, most people create a business plan and put it on a shelf, never to look at it again. 
My suggestion is to take a look at Bookkeeper Launch. It's a business plan in step-by-step, week-by-week format. It's been used by more than 14,000 other women and men to start a bookkeeping business. 
What Tools, Technology And Certifications Do I Need To Start A Bookkeeping Business?
Every craftsman (or craftswoman :)) needs his handy-dandy toolkit. Why?
To help him finish the job to the best of his ability, in the least amount of time possible, to deliver a high-quality finished product.
Before you dive into your discovery of the EXACT tools, technology and professional certification you need to start a bookkeeping business, there is a critical mindset you must adopt.
Bookkeeping is an honorable, time-tested PROFESSION. And while there are currently no laws or regulations in the United States that stipulate you must be licensed, you still must adhere to this truth:
"AS A BOOKKEEPER, I AM A PROFESSIONAL. AS A BOOKKEEPING PROFESSIONAL, I MUST CONTINUE TO DEVELOP MY CHOSEN CRAFT AND EACH DAY STRIVE TO BECOME BETTER THAN THE PREVIOUS."
As we hold onto this professional's mentality, let's now shift our focus to the exact tools, technology and certifications you need.
Above, in the "how much does it cost to start" section, we covered some of the specific pieces of technology and tools you need to start a bookkeeping business.
Right now, I want to discuss the MOST important thing you need: solid bookkeeping software.
A carpenter's go-to tool is the hammer. Or, the nail-gun.
As a great bookkeeper, your go-to tool is the accounting software / bookkeeping software. (BTW: from here out, I use both terms: accounting software and bookkeeping app.)
There is one accounting software that I am IN LOVE WITH. It's the best accounting application in my experience hands down. More on it in just a moment.
To begin, I want to give you some qualifications on ANY accounting software you use to serve your bookkeeping clients:
Cloud-based: you are going to operate a virtual bookkeeping business. That means you can serve your clients regardless of where you or they are located. Never rely upon applications that are location dependent. This limits your ability to serve.

Military-grade security: you're dealing with a lot of sensitive financial information. So, it stands to reason that the cloud-based bookkeeping apps you use protect that info at great lengths.
Now that you know the criteria from which to judge bookkeeping and peripheral applications, let's talk about the work-horse application which I love.
Start a Bookkeeping Business Using QuickBooks Online
QuickBooks ONLINE is the accounting software most used by virtual bookkeepers.
Be sure that when starting a bookkeeping business with QuickBooks, you use QuickBooks Online; not QuickBooks Desktop.
When you start a bookkeeping business with QuickBooks Online, you want to become certified. The benefits in getting this certification include:
Greater understanding of how QuickBooks Online works,

A listing in QuickBooks Online professional directory so that you can get referrals, and

Recognition from your clients as to your qualifications.
Now, just because we learn how to start a bookkeeping business using QuickBooks Online, your learning and development does not stop there. Next, you want to obtain your professional certification.
In addition to QuickBooks Online, there are other small business accounting platforms to consider:
Xero ®

Zoho Books ®

Sage 50
If Cloud-based Accounting Software Is So Great, Why Do Small Businesses Need A Bookkeeper?
Yes, small business accounting software is wonderful. It takes care of the daily number crunching and data entry, but that's ALL they do.
Yet, accounting software can not replace YOU.  You are an awesome human being, and use the reporting on financial transactions provided by the bookkeeping apps to help your clients improve their businesses.
This is a win-win for you and your client. They get better service, and YOU make more money.
Accounting software eliminates a lot of the busy work bookkeepers were required to complete…even just 5 years ago… and free you up to deliver premium service at premium rates.
When you take advantage of accounting software, you can:
Be efficient so you can serve more clients and serve them faster…this means more money and less work for YOU!

Earn more money in less time

Live your ideal life / work balance
The ability to go above and beyond virtual bookkeeping is crucial if you want to become a great bookkeeper and earn a great living.
The late Zig Ziglar – one of the most brilliant men on motivation and human relationships – said, "People won't care how much you know until they know how much you care."
That care will never be replaced by a machine or an app.  This is all you as a great bookkeeper!
Remember that the #1 character trait was being personable and caring.
The bookkeeping apps can run the numbers, but only a great bookkeeper can interpret the data, and translate it into simple language that the client understands. And do these things in a personable and caring way.
How Do I Get Clients And Make Money While I'm Starting A Bookkeeping Business?
We just talked about how to spend money… ICK 
Let's talk about how you MAKE money… YAY!
Because, without clients, you don't have a bookkeeping business…you have a hobby.
There are many ways to get new business. What works for you may be different than what works for someone else. You can start virtual. Or, you can start in-person. Actually, you should do both: start virtual and start in-person. 
But there is ONE killer way to get new business that works for everybody!
It is the easiest and fastest way to get great clients. And the kicker….it's pretty much FREE!
Talk to people! Tell family, friends, acquaintances, business owners and anyone else you can. You'll be shocked at how productive this is!
Use social media like mad. There are lots of social media platforms that you can use. My favorite social media platform for getting bookkeeping clients is LinkedIn®. 
We all know social media can be a drain on our time. However, LinkedIn® is different. It's the social media platform where serious business owners hang out. It's a target-rich social media platform. Use it. You'll thank me later. 
Another way to get new clients is through referrals. Commercial bankers are great. Also, some Certified Public Accountants (CPAs) don't provide bookkeeping services. So, see if you know anyone who is a Certified Public Accountant and contact them. 
I cannot stress this enough: define your ideal client first. Life is too short to work with individuals who drain your soul. By defining your ideal client in both qualitative and quantitative ways, you'll save yourself heartache down the road. 
What Accounting And Bookkeeping Services Can I Provide To Small Business Owners?
Sitting at the core of small business accounting, is the monthly preparation of the three main financial statements:
Balance sheet

Income statement

Statement of cash flow
In addition to the preparation of these three main financial statements, you can also offer add-on services such as:
Accounts payable management

Accounts receivable management

Prepare tax returns and self-employment tax forms

Prepare invoices

Payroll services

Supplemental financial reports like a budget

Helping to track long-term assets like machinery and equipment
Now, in order to perform these services for your clients, you do need to know best accounting and bookkeeping practices, like:
Double-entry accounting (think of this like a simple formula)

General ledger preparation (made easier through online bookkeeping software)

How to classify and record financial transactions
But these best accounting and bookkeeping practices can all be learned!
NOTE: Accounts payable is a big hassle for business owners. If you're able to remove the pain of accounts payable, you become valuable. But, it's important to note that you should never be the one in charge of authorizing payments. Only the business owner is allowed to be the one who does this in the accounts payable process.
Checklist for Starting a Bookkeeping Business: Your Action Plan
Information is useless.
Implementation is POWER!
So, let's iron out your implementation / action plan…
My first recommendation is for you to take our free training on how to start a virtual bookkeeping business.
Next:
Do the two-part exercise to determine if you have the seven character traits.

Determine your big "why".

Create your bookkeeping business plan.
You discovered why starting a bookkeeping business could be one of the best decisions of your life.
Bottom line is: take action. If you determine that starting a bookkeeping business is right for you – JUST DO IT!  Believe in yourself and you WILL prevail.

Have you considered starting a bookkeeping business? Tell us your reasons and concerns in the comments section.
UP NEXT:
Save and share this infographic to help you get motivated!