6 Quick and Healthy Lunch Recipes To Make While Working From Home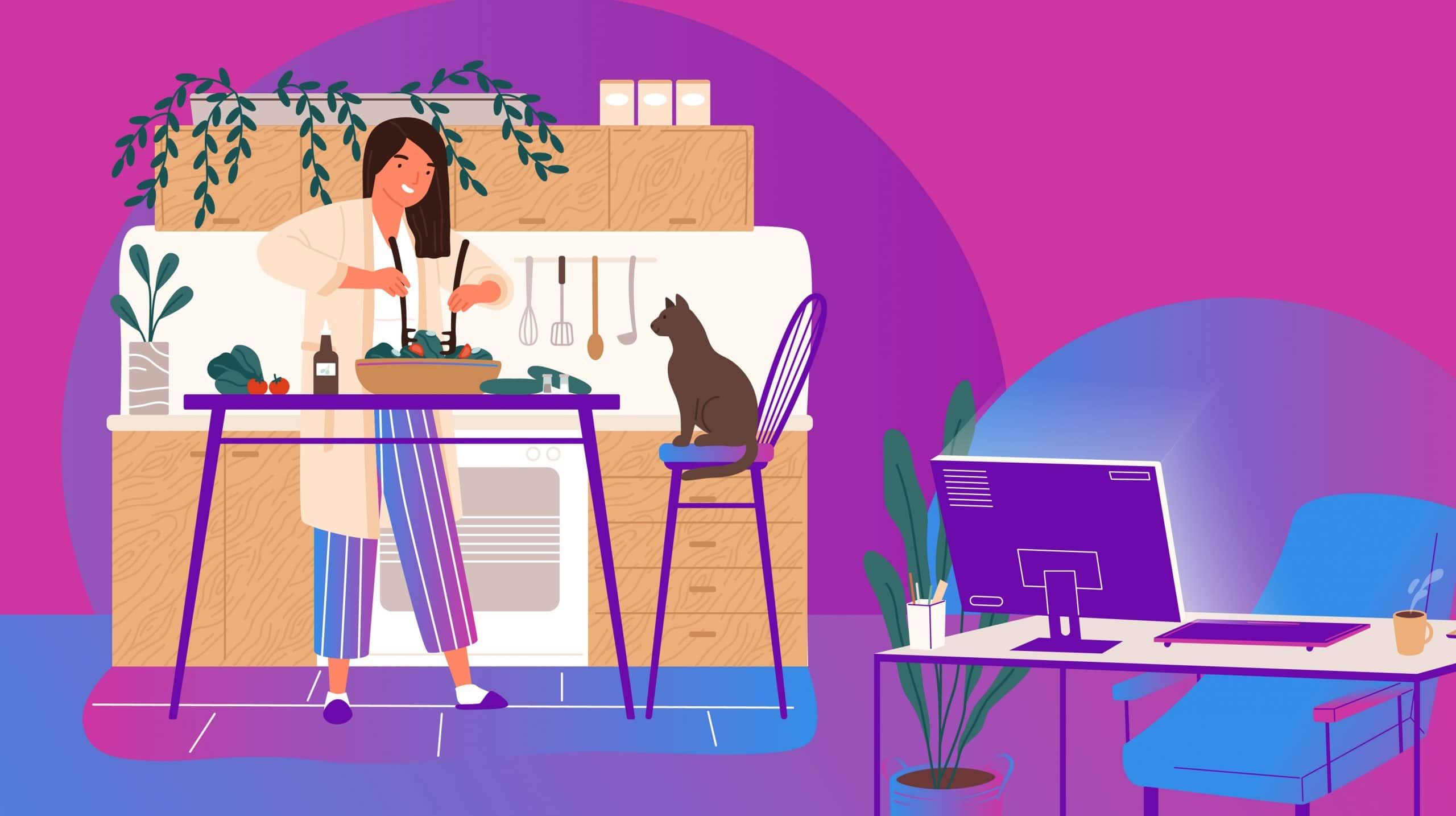 Deliciously healthy and easy-to-prepare lunch recipes can help make working from home more exciting and productive. Today, we share six recipes to help you enjoy working from home even more!
RELATED: Home-Based Jobs: 9 At-Home Business Ideas
In this article:
Lunch Recipes: 6 Easy Healthy Lunch Ideas for People Who Work from Home
1. Quick Quinoa Salad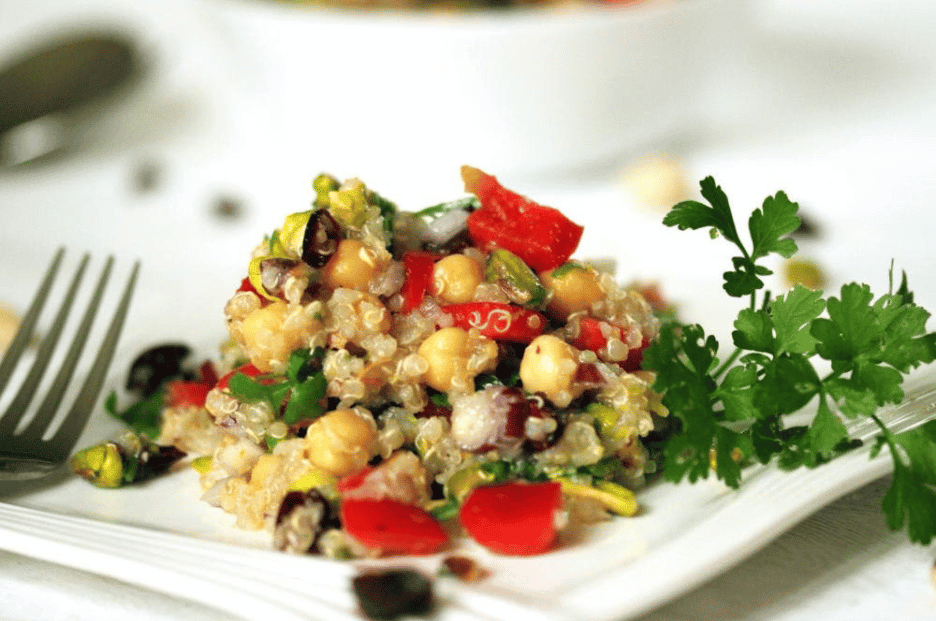 Quinoa is
one of the healthiest foods around
. This recipe makes four to six servings and takes less than five minutes to prepare.
Ingredients:
2 cups slightly cooled cooked quinoa
⅓ cup dried cranberries
½ cup extra-virgin olive oil
¼ cup pomegranate juice, ¼ cup
⅓ cup roughly cut parsley leaves
⅓ cup sliced green onion
⅓ cup toasted nuts or seeds
Zest and juice of 1 lemon
Arils of 1 small-sized pomegranate
Salt and pepper, to taste
Directions:
Whisk the olive oil, lemon juice and zest, and pomegranate juice in a small bowl. Add pepper and salt for taste, and if needed, add more olive oil before setting aside the vinaigrette.
Toss the walnuts, green onion, dried cranberries, quinoa, pomegranate arils, and parsley together in a big mixing bowl. Slowly pour the vinaigrette for taste and continue tossing to coat everything well.
Add some pepper and salt, if needed. Consume immediately. Leftovers can last up to two days in the fridge.
2. Tuna Wraps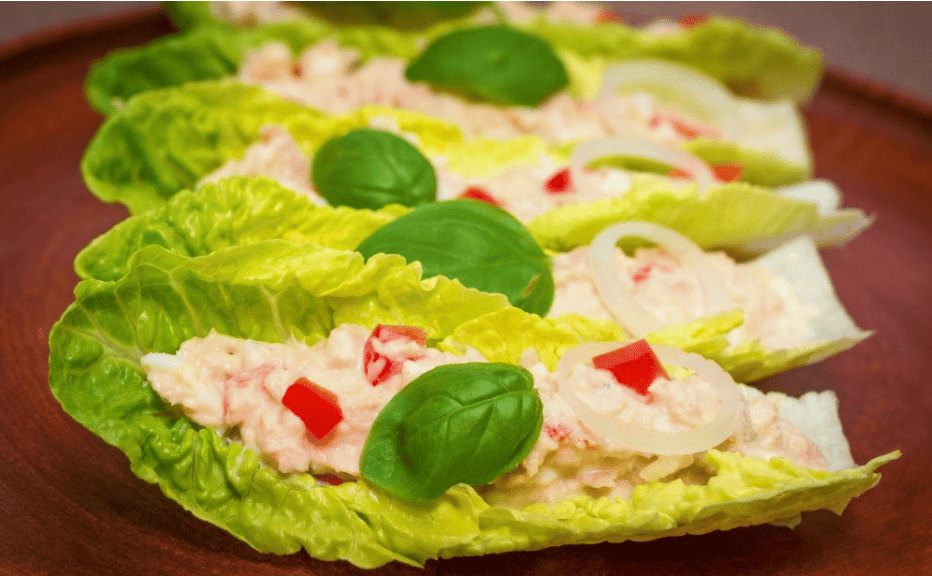 It takes less than 20 minutes to prepare this omega-3 fatty acid-rich lunch treat that's good for two portions.
Ingredients:
1 teaspoon apple cider vinegar
1 tablespoon capers
2 pieces of 5 ounce defrosted tuna fillets
½ teaspoon English mustard powder
16 pieces on-vine cherry tomatoes (sliced into halves)
2 drops rapeseed oil (for brushing)
1 whole ripe avocado
8 leaves of Romaine lettuce
Directions:
Brush the tuna fillets with the rapeseed oil.
Cook the fillets on a heated, non-stick pan for up to one minute per side. Transfer the fillets on a plate and set aside.
Cut the avocado in half and remove the seed. Scoop out its flesh into a small mixing bowl.
Add in the vinegar and mustard powder in the small mixing bowl and mash with the avocado. You should get a mayonnaise-like consistency.
Mix the capers in.
Transfer the mixture into two small dishes.
Put the lettuce leaves on a plate, and put some of the mayonnaise-like mixture on each lettuce leaf.
Top each of the leaves with the sliced tuna fillets, extra capers, and cherry tomatoes.
Roll the lettuce leaves to create tuna-lettuce rolls.
3. Zucchinushis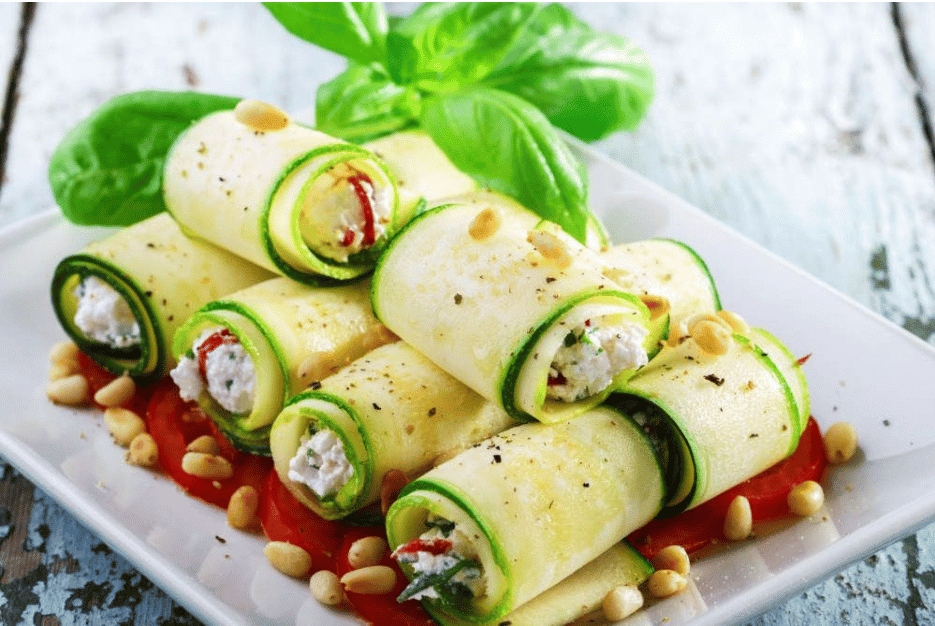 Like quinoa, zucchini also has
several health benefits
while sushi is a popular meal item that's so easy to make. If you combine them, you get zucchinushis — sushi made from zucchinis. This recipe makes two servings and takes less than half an hour to prepare.
Ingredients:
½ of an avocado (cut into small cubes)
½ carrot, (cut into thin slices)
½ cucumber (cut into thin strips)
1 cup crab meat
1 teaspoon lime juice
2 pieces medium-sized zucchini
4 ounces softened cream cheese
1 teaspoon Sriracha sauce
1 teaspoon toasted sesame seeds
Directions:
Cut the zucchini into thin strips using a vegetable peeler. Put the strips on a plate lined with paper towels.
Whisk the lime juice, Sriracha sauce, and softened cream cheese in a medium-sized mixing bowl.
Place two slices of zucchini horizontally on a cutting board, with the long sides facing you. On top of the slices, spread a thin amount of the cream cheese mixture.
On the left side of the zucchini slices, place a pinch of the cucumber, avocado, carrot, and crab meat.
Roll up the zucchini from the left side to create the zucchinushi. Do the same with the remaining ingredients.
Put some sesame seeds on the zucchinushis before eating.
RELATED: How To Become A Bookkeeper At Home
4. Chicken Yogurt Saladwich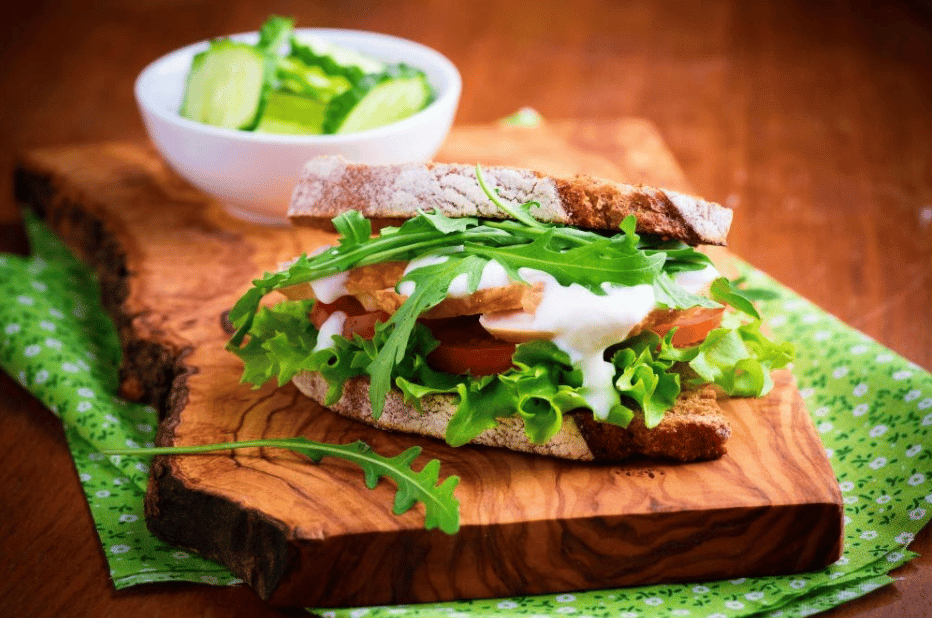 It only takes 15 minutes to prepare this high-protein saladwich (salad + sandwich). You can make four portions with this recipe.
Ingredients:
4 leaves Boston bibb lettuce
8 slices bread
½ cup diced apple
½ cup diced red onion
¼ cup dried cranberries
½ teaspoon garlic powder, ½ teaspoon
½ cup Greek yogurt (plain)
½ cup halved grapes
2 cups Rotisserie chicken leftovers
¼ cup slivered almonds, ¼ cup
1 tablespoon fresh lemon juice, to taste
Ground pepper and salt, to taste
Directions:
In a big mixing bowl, combine all the ingredients, except for the bread slices and the lettuce leaves.
Put equal amounts of the chicken mixture on four slices of bread, top each with one lettuce leaf, and cover with the remaining bread slices.
5. Mason Jar Tacos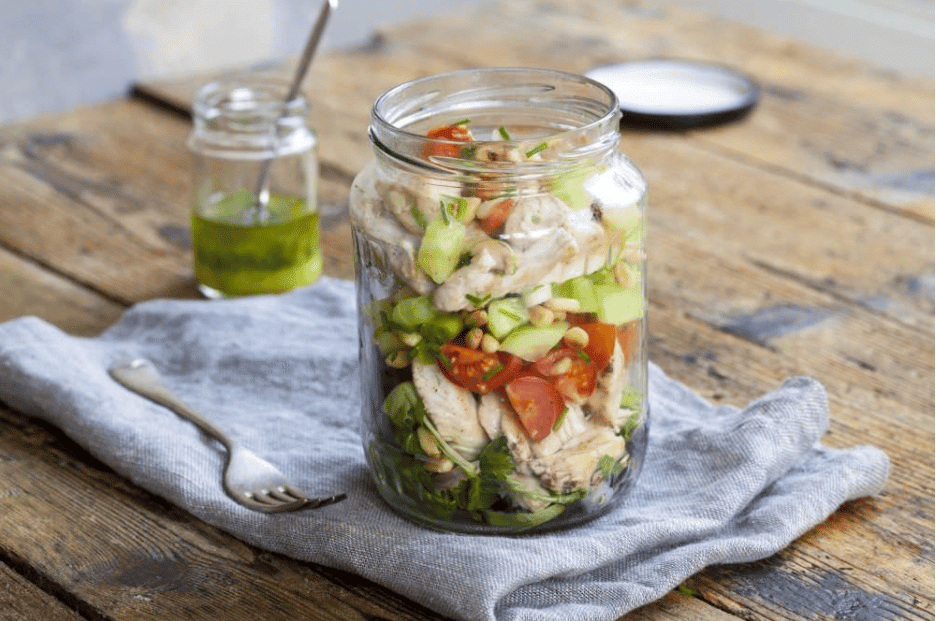 This high protein recipe serves six and takes less than 35 minutes to prepare. If you cook the turkey beforehand, it will take less than 20 minutes to prepare.
Ingredients:
1 cup diced tomatoes
2 tablespoons extra-virgin olive oil
Ground turkey meat, 1 pound
Canned black beans (15 ounces, rinsed and warmed)
1 head Romaine lettuce (chopped)
1 cup shredded pepper Jack cheese
1 tablespoon taco seasoning
2 cups corn kernels (warmed)
Salt
6 Mason jars
Directions:
Mix the salt and taco seasoning with the ground turkey meat.
Sauté the turkey meat in olive oil over medium-high heat, breaking it up while sautéing. Continue cooking for up to 10 minutes or until the meat is cooked through.
Set the sautéed ground turkey aside to cool for five minutes.
When cooled, place equal amounts of the turkey meat at the bottom of each Mason jar. Layer it in this order — meat, beans, corn, Romaine lettuce, and tomatoes.
6. Hot-vocado Wraps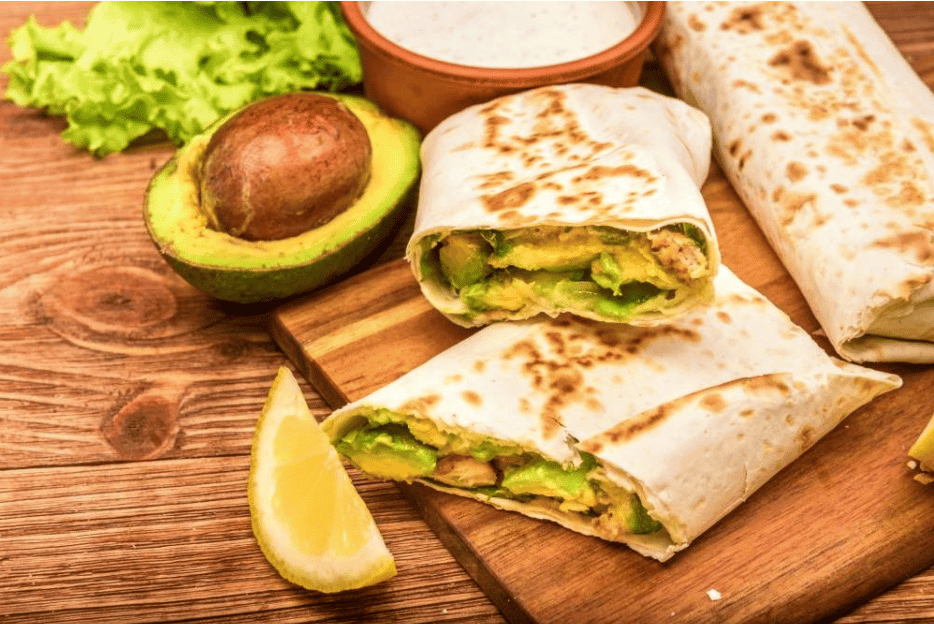 This chicken-style vegetarian lunch treat takes less than 15 minutes to prepare and makes two servings.
Ingredients:
1 whole avocado (cut in half with the seed removed)
½ teaspoon mild chili powder
1 teaspoon olive oil
5 ounces Quorn vegetarian "chicken" (cut at an angle)
1 piece roasted red pepper from a jar
1 clove garlic (chopped)
2 pieces seeded wraps
Juice from half a lime
Chopped coriander, to taste
Directions:
Combine the garlic, chili powder, lime juice, and the vegetarian chicken. Toss well to coat the "chicken" pieces.
Sauté the veggie chicken pieces in olive oil for several minutes.
In the meantime, warm up the wraps, according to the instructions on its package. Don't let the wraps get dry because they'll be hard to roll later on.
Squash the avocado in a mixing bowl. Place equal amounts on each warmed wrap.
Before finishing off the sauté, throw the peppers in with the veggie chicken pieces to heat them up.
Put equal amounts of the sautéed mixture on each wrap and drizzle with some of the chopped coriander.
Roll the wraps up, then slice them in half.
With these easy to prepare, healthy, and delicious lunch recipes, working from home can become even more exciting. You'll have something to look forward to during the workdays, plus these recipes keep you energized and help you stay productive for the rest of the day.
What's your favorite healthy, delicious, and easy to prepare recipe? Let us know in the comments section below.
Up Next: